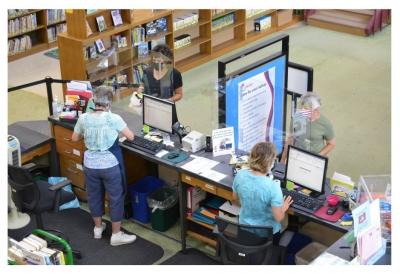 Our Patron Services staff are the first to greet you as you come in.  They are the go-to people when you are looking for a particular item in the Library, need to print something or send a fax, or if you just have a general question, however random it may be.  But there is a lot more to this hardworking team than what you see when you're visiting us.
Patron Services handles all of the cargo that c

omes in and goes out.  These are books, dvds, and video games that our patrons have requested from other libraries, or items that patrons at other libraries have requested from us

.  Since Louisville Public Library has joined the SEO Consortium (have you downloaded the SEO Libraries App yet?), the amount of cargo has dramatically increased and our Patron Services staff has really stepped up their game.  Upwards of 200 items are requested from our Library on a daily basis and all of those materials need to be pulled, moved upstairs, processed, sorted onto shelves for the corresponding one of 96 other libraries that we have joined with, then packed up and moved downstairs for pickup.  In addition to these items, we also receive items from other libraries that LPL patrons have requested.  Patron Services is also tasked with unpacking these items and processing them in order to get them into the hands of the person who requested them.  It's amazing to see the amount of items that go in and out of the Library each day and Patron Services handles it like a well-oiled machine.  And all with a smile because serving you is what they do best.