Welcome to Summer Reading 2021!  This year's theme is "Tails & Tales", all about cryptids, animals whose existence has not yet been proven by science.
To Participate:
You must have a Louisville Public Library card to participate.
1) Register for your age group.
2) Read, and log your reading.
3) Complete challenges.
Each of these steps qualifies you for a drawing!  In each of the three age groups, we will draw one winner
from everyone who registered
from those who read and logged the most pages read
from those who completed the most challenges
Should we have a tie for most reading or most challenges, a winner will be drawn from the tied entries.
There will be NO PAPER TICKETS at the Library--all tickets will be earned online. Do stop into the Library to admire the prizes, though! A full list of prize packs and all that they include is at the bottom of the page.
Louisville Library staff will be happy to help you register, log reading pages, and mark fulfilled challenges in your online account.  Just give us a call at 330-875-1696 or stop by!
Registration begins June 7.
Each week, we will have three Summer Reading Videos, plus Guest Reader videos Thursday at 10:30am. On Fridays, we'll have Story Time with Ms. Jenna at 10:30am. All videos will be on our Facebook page for 24 hours after they premier, but then will be available on our YouTube Channel through August 6th. So if you get behind or miss a Facebook video, don't worry--you can always go back and watch our Summer Reading videos on YouTube to complete your challenges and earn tickets online.
New Summer Reading grab bags of crafting materials are available at the Library each Monday for that week's videos, while supplies last. Each grab bag also includes an incentive sheet, also available at the Library, listing that week's challenges.
Register. Read. Log. Win.  It's that easy!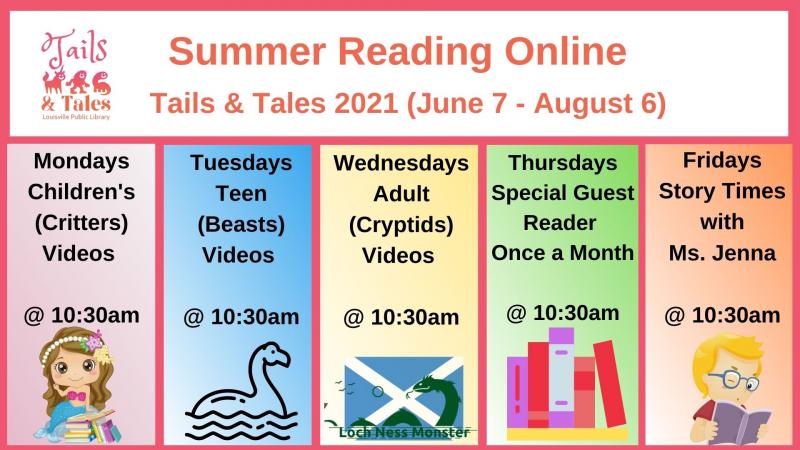 PRIZES
Logging Reading: Make sure you go online and log the pages that you read!  For each age group, the participant who has read the most pages will win a prize!  In the event of a tie, a winner will be chosen randomly from qualified entries.
Children's
365 Science Experiments book

Materials and supplies for experiments

501 Screen-Free Activities for Kids books
A collection of books
T-shirt (youth large) and certificate to make a custom shirt in the Makerspace
Plush Yeti
4 passes to McKinley Museum
2 - Buy One Get One Free Cleveland Monsters vouchers
Teen
Frogman t-shirt
Kraken mousepad
Collection of books
2 - BOGO certificates for Cleveland Monsters hockey tickets
Seattle Kraken Tervis tumbler
Squatch Stik (bang on trees to communicate with Bigfoot!)
Adult
Nessie tea infuser and mug
Nessie bookmark
Collection of books
Registration: Everyone who registers for Summer Reading Online is automatically entered into a drawing in their age group for the following prize packs:
Children's:
Canton Charge gear (4 passes to a game, jersey (adult XL), t-shirt (adult M), socks, headband, over-the-door basketball hoop)
Cavs gear (Austin Carr bobblehead, t-shirt (adult XL), ball cap, tote bag)
4 passes to an Akron Rubber Ducks game
Signed lithograph of Steelers' Cameron Heyward
2 - buy one, get one Cleveland Monsters hockey game vouchers
Cryptic Hunters dice game
Books
Teen:
$25 iTunes card
Bigfoot tumbler
2 - buy one, get one Cleveland Monsters hockey game vouchers
Coloring books with pencils
Day of the Dead origami book
Collection of books
Adult:
Kraken mug
4 passes to the Holden Arboretum or Cleveland Botanical Garden
T-shirt (adult XL) to customize in the Makerspace
Collection of books
COMING SOON:
Prize packs for the reader in each age group who completes the most challenges!
CAN'T WAIT? Stop in the Library, where each prize pack is on display for your ogling pleasure!