March 1-May 31: StarkFresh Seed Library
Seeds will be available in the Library March 1-May 31, while supplies last. Please use hand sanitizer before looking through the seed packets.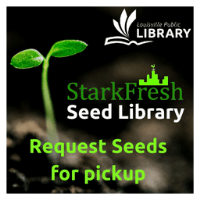 If you're not ready to come inside, request a seed collection. Fill in the form, and we will prepare a seed collection for pickup via our Holds shelf or contact-free curbside service.
Share photos of you planting, nurturing and harvesting your plants, and share them with us on Facebook @lplibrary or by emailing them to public.relations@louisvillelibrary.org.
Stop by the Makerspace to create your own custom laser-engraved plant stakes, only 15 cents each!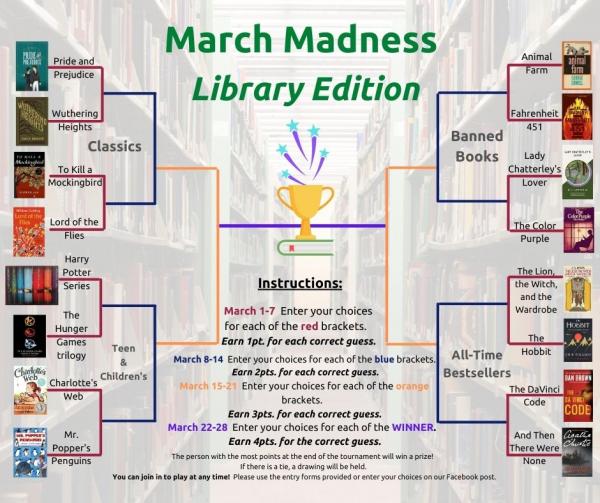 March Madness: Library Edition
March Madness: Library Edition is a competitive bracket pitting your favorite books head-to-head (or maybe that's spine-to-spine?). Who will be the victor?
Enter to play in the Library at the March Madness display, or online on our Facebook page, @lplibrary.org.
The bracket features four leagues: Classics, Teen & Children's favorites, All-Time Bestsellers and Banned Books.
Week 1 March 1st-7th, choose one book from each pairing--eight matchups in all! Earn 1 point for each correct guess.
Week 2 March 8th-14th is for league championships. Choose one winner in each league. Earn 2 points for every correct guess.
Week 3 March 15th-21st features the semi-finals, pitting the league champions: Classics versus the Teen & Children's champ, and Banned Book winner versus the All-Time Bestseller. Earn 3 points for each correct guess.
Week 4 March 22nd-28th is the finals. Earn 4 points for a correct guess.
Who will be the ultimate winner? The person with the most points at the end of the tourney will win a prize! In the case of a tie, a drawing will be held.
Winners (both book and player) will be announced Friday, April 2, 2021.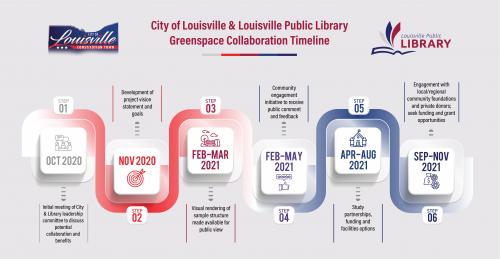 Library and City of Louisville Collaboration
The Library has continued meeting with members of the City of Louisville to consider joint development on the green space. The team's vision is to, "consider the advancement of the green space to further promote mixed-use (residential, incubator, business) development of the downtown area while considering the inclusion of shared space and infrastructure for municipal (city) and library. Additionally, to create a park area to be used for community events with an outdoor amphitheater on the green."
As prompted by the Downtown Louisville Action Plan and several past studies, we understand that the community wants to be able to use the green space and we are working hard to make that a reality.
As depicted in our recent timeline, the group is currently developing a visual rendering to give the community a chance to view some possibilities for the space. Once that is finished, we will be conducting a community engagement initiative, which will consist of Zoom meetings, phone calls and surveys. We want to know what you think of this potential project.
Meanwhile, we are studying partnerships and funding opportunities. Both organizations are firmly committed to a no new tax initiative.
The current downtown revitalization makes this a great time for Louisville and we hope that you are as excited about this possibility as we are. We are looking forward to hearing from you.
Coming Soon: Holds Pickup Lockers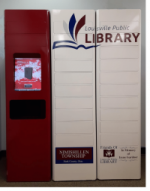 The Library has also partnered with Nimishillen Township to place Holds Pickup Lockers in the entryway of the fire station on Broadway Avenue. The lockers were acquired from the Stark Library for free and paint was applied by Canton Specialty Fleet Services, which was paid for by the Friends of the Louisville Public Library.
Book Bike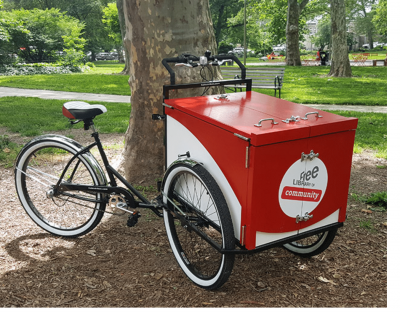 We will be debuting a brand new Book Bike this spring! If you haven't seen a book bike before, picture a tricycle with two wheels in the front and a box carrying books in between the two tires. A book bike is a really neat way for us to participate in community events and take the Library outside the walls of our building. We will be able to register library cards, hold programs and even check out materials using our Book Bike. Thanks the Louisville Rotary Club and the Friends of the Louisville Public Library for funding this project.
Activities & Events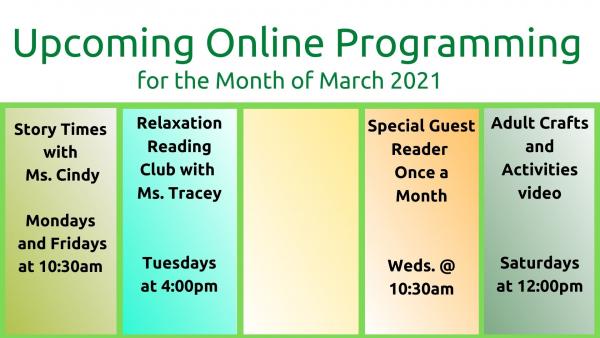 Adult Crafts and Activities grab bags are available on the Holds shelf at the Library the first Monday of each month, while supplies last.
Relaxation Reading Club activity grab bags are available the last Monday of each month, while supplies last.
Activities & Events premiere on Facebook @lplibrary, then stay on our YouTube channel for at least 1 week.