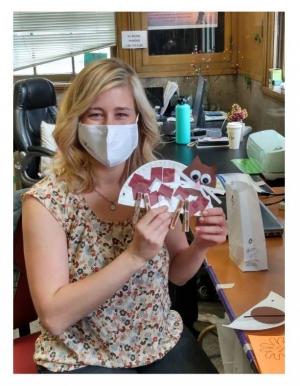 Our Department Spotlight for this month is our Activities & Events (A&E) Department. You usually won't see staff from this department when you come into the Library because our A&E team works out of our Discovery Center in the old post office building next to the Green Space at 504 E Main St.
Even though we don't currently have any in-person programs, our A&E team is as busy as ever working to bring you online programming. To make these videos as entertaining as possible there is a lot of behind-the-scenes planning and preparation. They film their videos in the Sensory Room at the Discovery Center and will often incorporate components from the room into their Story Times. They edit the videos using various free programs such as iMovie, VideoPad, and Windows Movie Editor to ensure they are edited to the best quality without purchasing expensive software. Once the videos are edited, the A&E team schedules them to our Facebook and YouTube pages.
They also put together the craft grab bags that are available each month to pick up at the Library. Current online programming consists of 3 Story Times weekly for the little ones, Tuesday Relaxation Reading Club for elementary-aged kids, and Saturday crafts and activities for teens and adults. The A&E team also has been putting together Guest Story Times with different members of the community.
Right now is perhaps their busiest time of year as they work towards bringing you another amazing Summer Reading Program. They've been hard at work with online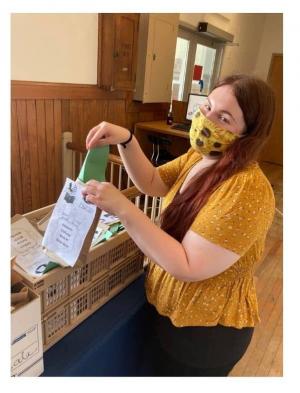 instructions & programming, preparing craft grab bags, working up fun challenges, and designing decorations for the Library. Our summer reading program will be online again this year and will run June 7- August 6.
May 8 - August 6 our A&E Dept. will take a break from regular programming and grab bags while they prepare to host Summer Reading. There will be special Summer Reading grab bags available each week beginning in June. Keep an eye on our social media, too. We'll be announcing a few live, in-person pop-up crafting programs for teens and adults over the summer.
Rest assured that they are constantly working with our Library Director and local health officials to determine the safest way to bring back the in-person programs you love. They miss planning and hosting those programs as much as you miss coming to them.
They also have new Kids' Activity Pages with puzzles, activities, fun facts, and jokes available for May as well as new Early Literacy Activities Calendars to keep your kids excited about reading and learning. These can be printed from our website or picked up in the Children's Department.