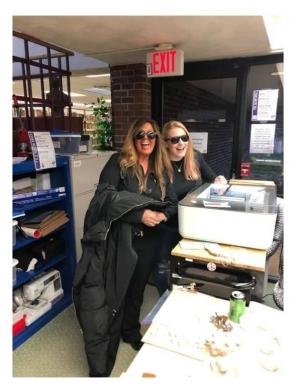 The Louisville Library Makerspace is a learning and making space. It's free to use our equipment and expertise. We will train you to use the equipment, just bring your own approved materials or purchase materials from us at cost.
 
Available Equipment
Please see staff for current materials availability and prices.
The Sublimation Printer, combined with the heat press, transfers your design--even a photograph!--onto special fabric, ceramic, metal and other items in full color.
The Glowforge laser engraver engraves wood, cardboard, glass, some metals and some plastics.
The Ultimaker 2, 2 Extended, and 3 3D printers create 3-dimensional objects out of plastic.
The Titan2 vinyl cutter cuts shapes and letters in sheets of sticker material.
6 Singer sewing machines straight stitch, zigzag, make buttonholes, and feature decorative stitches .
The Brother embroidery machines stitch pictures, designs and text onto fabric, in an array of colors.
The Cricut craft cutters draw, cut, emboss, deboss and stipple on paper, cardstock, vinyl and other materials.
The Heat Press
The Pin-backed Button Maker makes a button of your design.
The Poster Printer prints on plain paper or photo paper up to 24" wide, from 100-ft paper rolls.
Hand tools, jewelry-making equipment, soldering irons, and more!
Walk-ins are welcome, but it's always best to make an appointment by calling 330-587-5756.