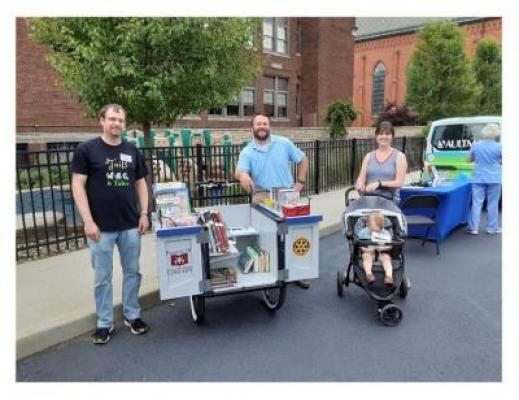 Meet the Book Bike Team!
We're excited to bring a new outreach service that gives us a way to take the Library out into the community!  The Book Bike is making appearances at events in downtown Louisville, including the Friday Night Louisville Downtown Market Days at St. Louis church and events in Umbrella Alley.
Funded by generous grants from the Louisville Rotary and the Friends of the Louisville Public Library, the Book Bike is a fun way to take the Library on the road, so to speak.
But the Book Bike goes nowhere without Library staff. Employees from every department of the Library have signed up to spend an extra weekend evening outside of their usual working hours, to bring the Book Bike to you!  Each time, the Book Bike is stocked with something different--free book giveaways, craft grab bags, coloring packets, flyers for Library events, sometimes even books for sale from the Friends of the Library--and always, candy! In the future, we'll bring popular Library materials to you to check out as well!
While not all are pictured here, our Book Bike Team consists of these Library employees:
Director Brock Hutchison
Assistant Director Deborah Long
Activities & Events Manager Tracey Phillips
Patron Services Manager Darla Evans
Technology Manager Shawn Arbogast
Outreach Coordinator Christina Patient
Deputy Fiscal Officer Dalia Soza
Activities & Events Assistant Cindy Mogus
Activities & Events Assistant Ambritt Green
Patron Services Assistant Stephanie Phillips
Patron Services Assistant Tasha Miller
Watch for us at these events in 2021: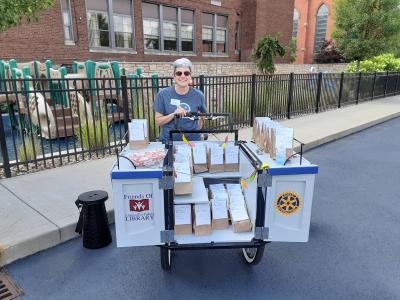 Friday, July 9: Louisville Downtown Market Days 4-7pm
Friday, July 23: Louisville Downtown Market Days 4-7pm
Friday, August 13: Louisville Downtown Market Days 4-7pm
Friday, September 10: Louisville Downtown Market Days 4-7pm
Sunday, September 19: Paradise Church pre-parade 11:30-2pm
Sunday, September 19: Constitution Parade 2-4pm
Friday, September 24: Louisville Downtown Market Days 4-7pm