Look for Louisville Public Library staff at events all over town!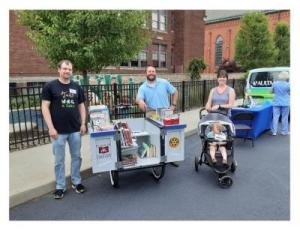 When you see the Library's Book Bike, be sure to stop by for fun giveaways like candy, Library swag, and free books.
For timely reminders, sign up for our email newsletter, delivered fresh to your email inbox twice every month!
Here is a list of some of the places we'll be!

The purpose of this program is to create a positive social environment for adults (ages 18+) that fosters teamwork, coordination, and a more healthful lifestyle. Throughout the three sessions of this event, participants will learn the fundamentals of Ultimate Frisbee, compete in scrimmage-style matches, and play frisbee-related activities. Participation in all three sessions is not required, and although content will vary in each session, all participants will have an opportunity to learn fundamental skills. Registration is required for this program. Each session will host a max of 28 participants.
Please register for each date separately.

We're handing out free books, courtesy of the Nimishillen Grange!
Stop by the Library for a free copy of the U.S. Constitution!