Changing COVID guidelines
Effective immediately, staff and customers who are fully vaccinated may choose whether or not to wear a mask at the the Library. Masks are welcome for all, but unless the individual is fully vaccinated, all persons are required to wear a facial covering and engage in social distancing at all times in or on the grounds or premises.
Reserve the Meeting Room
The meeting room is open for community groups to use.  Businesses pay a small fee.
Book the meeting room for groups of 10 or fewer.  The meeting room is available whenever the Library is open.
For more details, including full meeting room policies, see our Community Spaces page.
Check out our new look!

We've done some long-overdue maintenance, with a fresh coat of paint and new floors in the Library. While we were at it, we rearranged some furniture, including moving the main desk. If you haven't been in for a few weeks, stop by!
May is National BBQ Month!
Enter our drawing to win a a stack of cookbooks and a grilling utensil set!
Earn one entry for EVERY ITEM you check out!  Get your entries from the Circulation Desk, fill them out, then put them in the basket on the National BBQ Month display in the Children's Department.
All ages are welcome to participate.
Winners will be selected at the end of the month.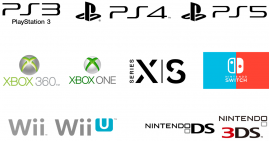 With gaming as popular as ever, be sure to check out our selection of video games for all consoles!  It's a great way to try it before you buy it!  You can even place holds on new videos games!
Available Now:  Upcoming Titles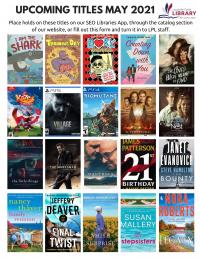 Do you like reading books by your favorite authors and series as soon as they come out? The Upcoming Titles list can help!
The Upcoming Titles list is a monthly list of new items that will be available within the next month. Here, you can choose items to place on hold, so you can get them soon after their release.  Remember, Louisville Library cardholders get Louisville Library items first.
The list is available at the bottom of this page for printing and there are paper copies in the Library on the New Items shelf. Just check off the items you want, fill in your name and Library card barcode, and turn it in to LPL staff--or even drop it in the book drop!.  We'll place the holds for you and contact you when they're ready to pick up.  You can even choose to have your holds sent to the 24-hr Holds Pickup Lockers at the Nimishillen Fire Station #1 on Broadway Avenue.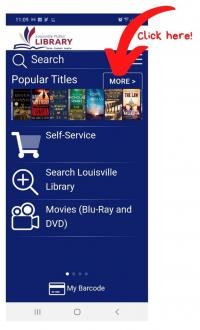 You can also find the Upcoming Titles list on the SEO Libraries app. On the home page you'll see a set of pictures called Popular Titles.  Click on the MORE button, and you'll see the Upcoming Titles list.  Just click on an image and place it on hold!  The list includes many Large Print items, so watch for the medallion on the picture of the book cover that denotes Large Print. From the app, you can also choose to have your holds sent to the Holds Pickup Lockers.
Don't wait for your favorite titles or the next in a series--place these items on hold before they're even available!
Available Now: Free at-home COVID tests
Pick up free COVID at-home tests via contact-free curbside pickup at the Louisville Public Library.  Two million tests have been provided by the Ohio Department of Health for no cost for libraries to distribute to citizens in our state. The testing takes about 20 minutes, and you will need two devices, a webcam and an internet connection to take the test with a live proctor through a telemedicine call.  Need internet to take the test?  Request one of our wifi hotspots!
Tests and hotspots can be picked up using our contactless curbside service.  Pull in to one of the front parking spaces, call the number on the sign, and we'll bring your items out to you.
March 1-May 31:  StarkFresh Seed Library
Seeds will be available in the Library March 1-May 31, while supplies last.  Please use hand sanitizer before looking through the seed packets.  
Share photos of you planting, nurturing and harvesting your plants, and share them with us on Facebook @lplibrary or by emailing them to public.relations@louisvillelibrary.org.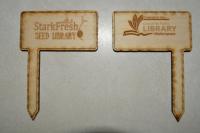 Stop by the Makerspace to create your own custom laser-engraved plant stakes, only 15 cents each!

Library and City of Louisville Collaboration
The Library has continued meeting with members of the City of Louisville to consider joint development on the green space.  The team's vision is to, "consider the advancement of the green space to further promote mixed-use (residential, incubator, business) development of the downtown area while considering the inclusion of shared space  and infrastructure for municipal (city) and library. Additionally, to create a park area to be used for community events with an outdoor amphitheater on the green."
As prompted by the Downtown Louisville Action Plan and several past studies, we understand that the community wants to be able to use the green space and we are working hard to make that a reality.
As depicted in our recent timeline, the group is currently developing a visual rendering to give the community a chance to view some possibilities for the space.  Once that is finished, we will be conducting a community engagement initiative, which will consist of Zoom meetings, phone calls and surveys.  We want to know what you think of this potential project.
Meanwhile, we are studying partnerships and funding opportunities.  Both organizations are firmly committed to a no new tax initiative.
The current downtown revitalization makes this a great time for Louisville and we hope that you are as excited about this possibility as we are.  We are looking forward to hearing from you.
Book Bike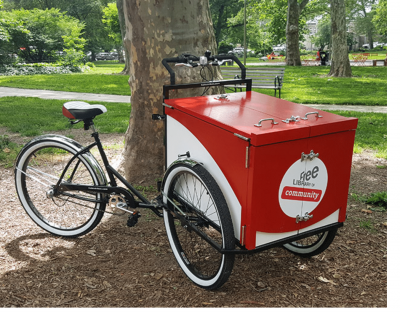 We will be debuting a brand new Book Bike this spring!  If you haven't seen a book bike before, picture a tricycle with two wheels in the front and a box carrying books in between the two tires.  A book bike is a really neat way for us to participate in community events and take the Library outside the walls of our building.  We will be able to register library cards, hold programs and even check out materials using our Book Bike. Thanks the Louisville Rotary Club and the Friends of the Louisville Public Library for funding this project.
Activities & Events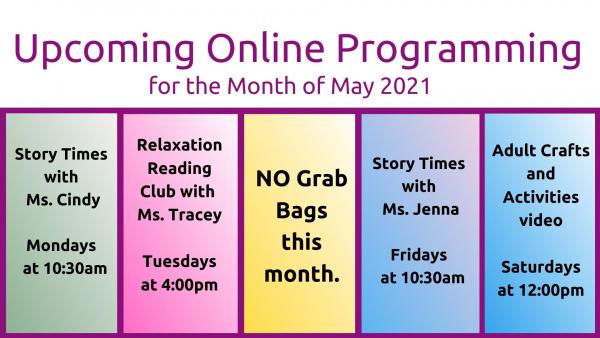 Adult Crafts and Activities grab bags are available on the Holds shelf at the Library the first Monday of each month, while supplies last.
Relaxation Reading Club activity grab bags are available the last Monday of each month, while supplies last.
Activities & Events premiere on Facebook @lplibrary, then stay on our YouTube channel for at least 1 week.