It's nearly planting time in Ohio again! 
StarkFresh is handing out free seeds, and the Louisville Public Library is once again a distribution site.  Here's how the program works:  At the end of the planting season, retailers gather up their unsold seeds.  Normally, these seeds are destroyed, but thanks to StarkFresh, they are collected, stored for nine months, and distributed to the public for free the next planting season.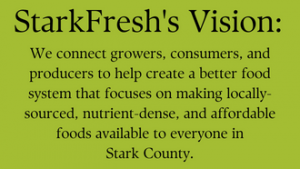 If you requested seeds, your seed requests will be labelled with your name, and placed on the holds shelf right inside the front door.  Please pick up your seeds by March 15; any requested seeds remaining on March 16 will be returned to the Seed Library for anyone to take.
Stop by the Library, where you can choose your own seeds from our display in the old card catalog cabinet.  You can also pick up a grab bag, assembled by garden-savvy staff.
We can't guarantee what seeds we'll receive or how long the seed inventory will last.  We will advertise on our Facebook page if we receive more seeds later in the season.
We give special thanks to Anthony Petitti Organic Garden Center of Nimishillen Township for donating seeds directly to the Louisville Public Library.
Happy growing!  Share what you grow on our Facebook page, or by emailing photos to public.relations@louisvillelibrary.org. Sending us your photos gives us permission to use them; please identify any people in the pictures.  Thanks!